Our featured designer for August is Louise of Loucee Creations. I was thrilled when I approached Lou and asked her would she be our August Featured Designer, and she said yes! Lou has a fabulous, traditional style and I know all of our Just Art members are going to enjoy her designs. Robyn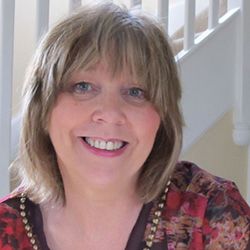 Links for Lou are: FACEBOOK ...... BLOG ...... GINGERSCRAPS STORE ...... STUDIO STORE
Look in our forum HERE for a fabulous FREEBIE from Lou for our August Featured Designer Challenge
_______________________________________________________
GETTING TO KNOW LOU
I am a mum to two fabulous children, Matthew (27 and married) and Catherine (24) and I'm a very proud Grandmother to two gorgeous little babes! Lucas who is 20 months and his darling *new* sister, Saskia who is only a few weeks old. I couldn't be happier
I live in a little village in Nottinghamshire close to all amenities and really don't need to use my car much, it's a perfect area for long countryside walks which pleases my dog Roman! plus it's also great to get out and photograph the views and wildlife.
I work from home and have a small dog grooming business as well as my digital design work. I have groomed dogs all my working life (40 years now) I feel I have the two best jobs ever!
Earlier this year I decided to go on a health kick, lose weight and start jogging along with my walking. I walk over 20 miles a week, again, my dog Roman could not be happier. I've done really well on my health kick, I've lost 184lb in total and have learned to eat much more healthier too.
As well as photography, I do love to craft, but since moving to my little house a year ago I have not found time to set up a crafting area. I'm missing making cards and doing a bit of hybrid work with digital products.
I've been designing for about 9 years now, I originally got in to digital scrapbooking by being on Kim B's creative team creating hybrid items with her gorgeous products.
I work in Adobe Photoshop and Illustrator CS6. I love to doodle in illustrator and try and add these to the majority of my kits. I work in traditional design which are mainly family/children orientated. I always scrap at least one page with my kits after I finished the designing, I then make an album at the end of the year with the scrapped pages.
Lou
_______________________________________________________
THESE BEAUTIFUL PAGES WERE CREATED USING SOME OF LOU'S DESIGNS