I am thrilled to welcome DitaB Designs as our featured designer for December. Dita's beautiful designs can be found HERE at one of my favourite stores, PickleBerryPop. She has a wonderful sense of colour and her designs are just oozing with lots of beautiful colourful flowers and elements and her kits are usually offered with great separate options for quick pages, word art, overlays, photomasks etc.
Dita also has a fabulous range of CU products too and these can be found HERE.
Look in the forum HERE for the December Featured Designer Challenge. Dita has very generously donated a beautiful Christmas mini kit to work with and also a coupon to her store. THANK YOU Dita.
Robyn
Links for DitaB Designs are: STORE ........ FACEBOOK ........BLOG ........ NEWSLETTER SIGN UP
_______________________________________________________
Write comment (0 Comments)
I am beyond excited to welcome Gracie and Tracy (G & T Designs) as our November featured designers. You can find their beautiful and unique designs exclusively at E-scape and Scrap. They are widely recognised for the quality and beauty of their designs and have been published in the well respected magazines, The Somerset Digital Studio and Artful Blogging.
Look in our forum HERE for the featured designer challenge. The girls have donated a beautiful mini kit for our Just Art members to work with and also a generous coupon to their store. THANK YOU Tracy and Gracie.
Robyn
Links for G & T Designs are: STORE .......... FACEBOOK .......... BLOG .......... PINTEREST
_______________________________________________________
GETTING TO KNOW GRACIE AND TRACY
Hello, we are Gracie and Tracy aka G & T Designs. We were both born in Liverpool UK. Tracy has always lived in the area. I moved away when was 4 years old and moved back 5 years ago. We met online on a scrapbooking site (Daisytrail) and became good friends. Tracy was in Liverpool with her partner Cliff and I lived in Shropshire with my son Alex.
We spoke most days via messenger and both really wanted to start designing our own kits. We both love art, photography and of course creating!! Tracy loves to draw and paint and create mixed media projects. I love to draw and make cards. We had lots to research, learn and understand about starting and creating a kit from scratch, especially the technical side of designing. We used and still use Serif Craft Artist Professional and Photoshop CS extended software.
After a good deal of blood sweat and tears we went on to create a free kit to see how it would be received and to our delight people loved it. We released our first commercial kit in 2011. It was called The Magpies Memories (which we have recently updated and re-released to allow our newer customers to have access to it, and because we have a special soft spot for our first kit). It was very successful!! We were thrilled and excited to create again and so it has continued……..
Write comment (6 Comments)
Our featured designer for September is Palvinka Designs. Paula is one of my very favourite designers and I'm so pleased and excited to be able to feature her designs here at Just Art.
Look in our forum HERE for the Featured Designer Challenge. Paula has donated a beautiful FREEBIE for members to use in this challenge - THANK YOU Paula!
Robyn
Links for Palvinka Designs are: STORE ........ FACEBOOK ........ TWITTER ........ NEWSLETTER SIGN UP ........ BLOG
_______________________________________________________
GETTING TO KNOW PAULA
Where have you lived and where do you live now?
I was born in Slovakia and I live here. I love my county and I can not imagine living anywhere else, without my family and friends.
Who is in your family?
In my family is my husband, and my daughters Hana (10) a Petra (6).
Do you play any sport?
I like swimming and hiking.
Do you have any hobbies besides scrapbooking?
Designing and scrapbooking is my biggest hobby. I am lucky person because my work is also my hobby. And then I love photography. I am creative person, so I like crafting and DIY projects. I love nature so I really enjoy spending time with my family on trips and hiking.
Do you have another job/career other than designing?
I am mom on full time and then designer and photographer.
How did you start in digital scapbooking?
I discovered digital scrapbooking in 2007 when I created calendar with photos of my daughter as Christmas present for my parents. It was love for a first view Then I created many layouts and I spent many hours to learning how work with photoshop. After some time I created my own elements and I made my first freebies. I am official designer since February 2009.
Write comment (1 Comment)
I am so very pleased and excited to welcome Courtney (Courtney's Designs) as our October featured designer. I have known Courtney from way back at the beginning of her design career and it's been fabulous to watch her growth from a beginning designer to one of the most popular and accomplished designers in the digi world!
Look in our forum HERE for the featured designer challenge. Courtney has donated a great template for you to work with and make it your own. THANK YOU Courtney.
Robyn
Links for Courtney are: STORE ........ FACEBOOK ........ BLOG ........ NEWSLETTER SUBSCRIPTION........ PINTEREST ........ TWITTER
_______________________________________________________
GETTING TO KNOW COURTNEY
1. Tell us a bit about yourself.
I guess you could say I'm a stay-at-home mom. I used to work for lobbyists, but the stress became unbearable, which led me to go back to school to get certified in Landscape Design and ended up starting a small business, which was quickly growing. With the birth of my youngest son, I ended up having to give all that up to care for him. He was fairly high-needs and required a lot of attention.
Though I am a mixed media designer and was previously a landscape designer, art has always been a part of my life one way or another. Ever since I was a child, I took loads of art classes and art history classes, even winning me a couple of awards at art shows when I was a teen. After my 20's, thinking I could never be an artist, I stopped doing art all together, much to my regret. My mother also used to paint beautifully, as well as my grandfather from my mother's side. He was an amazing painter. Alas, I think the talent has ended with me ha ha. My boys have no interest in it.
Write comment (1 Comment)
Our featured designer for August is Louise of Loucee Creations. I was thrilled when I approached Lou and asked her would she be our August Featured Designer, and she said yes! Lou has a fabulous, traditional style and I know all of our Just Art members are going to enjoy her designs. Robyn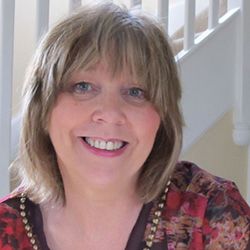 Links for Lou are: FACEBOOK ...... BLOG ...... GINGERSCRAPS STORE ...... STUDIO STORE
Look in our forum HERE for a fabulous FREEBIE from Lou for our August Featured Designer Challenge
_______________________________________________________
GETTING TO KNOW LOU
I am a mum to two fabulous children, Matthew (27 and married) and Catherine (24) and I'm a very proud Grandmother to two gorgeous little babes! Lucas who is 20 months and his darling *new* sister, Saskia who is only a few weeks old. I couldn't be happier
I live in a little village in Nottinghamshire close to all amenities and really don't need to use my car much, it's a perfect area for long countryside walks which pleases my dog Roman! plus it's also great to get out and photograph the views and wildlife.
I work from home and have a small dog grooming business as well as my digital design work. I have groomed dogs all my working life (40 years now) I feel I have the two best jobs ever!
Write comment (0 Comments)
You are here:  

Featured Designers